The efficacy of Cannabis in managing multiple sclerosis has been the subject of numerous research efforts, with quite a few of these showing positive results. Many MS patients with severe symptoms have spoken of great improvements or even complete remission in their conditions, but scientific studies are largely divided. Cannabis works through a combination of action on MS symptoms and on causative effects.
Read More Below…
Recommended Cannabis Strains for the Treatment of Pain Associated with Multiple Sclerosis
Lemon Skunk (Mostly Sativa)

Lemon Skunk is a high-yielding strain bred by DNA Genetics. A product of Skunk No. 1, this strain has a potent pungent lemon aroma. Those with stress and depression may enjoy this strain's energizing yet relaxing effects.
THC 20%
CBD 0%
Effects:
Cerebral, Energetic, Euphoria, Happiness, Hunger, Pain Relief, Relaxation, Uplifting
Medical Uses:
Anorexia, Anxiety, Depression, Fatigue, Headaches, Nausea, Pain, Stress
Terpenes:
Caryophyllene , Humulene , Limonene , Linalool , Terpinolene
Click Here for More
OG Kush (Hybrid)

OG Kush is one of the most popular cannabis strains around. This 1990s sensation is also the base
of many modern day hybrids. With THC Content soaring up to 24%, it's no wonder this strain has become so famous.
OG Kush is a popular medical strain. Those with pain conditions, nausea, migraines as well as ADD/ADHD all tend to like this strain. Some even suggest that this strain can be helpful in Alzheimer's disease.
THC 20%
CBD 0.2
Lineage Chemdawg Hindu Kush
Effects:
Euphoria, Focus, Happiness, Hunger, Pain relief, Relaxation, Uplifting
Medicinal Uses:
ADD/ADHD, Alzheimer's, Anxiety, Bipolar Disorder, Depression, Gastrointestinal Disorder, Headaches, Insomnia, Lack of Appetite, Migraines, Nausea, Pain, PTSD, Stress
Terpenes:
Caryophyllene, Limonene, Linalool, Myrcene, Pinene
Click Here for More
Girl Scout Cookies (Hybrid)

Girl Scout Cookies has made a name for itself as one of the strongest strains in the world. With THC levels soaring to 28%, it's no wonder this hybrid has had so many successful offshoots, including Platinum Girl Scout Cookies and Thin Mint.
Patients with migraine and PTSD find relief with GSC. Though, it's also good for chronic daily stress, anxiety and pain. Those with Parkinson's, wasting syndrome, and multiple sclerosis may also find relief with this strain.
THC 24% Very High
CBD 0.25 Low
Effects:
Cerebral, Creativity, Drowsiness, Euphoria, Happiness, Hunger, Pain Relief, Relaxation, Uplifting
Medical Uses:
Anorexia, Anxiety, Arthritis, Cachexia, Crohn's Disease, Depression, Fibromyalgia, Gastrointestinal Disorder, Inflammation, Insomnia, Lack Of Appetite, Migraines, Multiple Sclerosis, Muscle Spasms, Nausea, Pain, Parkinson's, PTSD, Stress
Terpenes:
Caryophyllene , Humulene , Limonene , Pinene
Click Here for More
White Widow (Mostly Indica)

White Widow is a 1990s hybrid that's only gaining in popularity. It's no surprise, either. This strain is famous for its potent, yet very well-balanced high. The THC content of this strain can reach up to 25%.
Effects:
Creativity, Euphoria, Happiness, Hunger, Psychedelic, Relaxation, Sociable,
Uplifting
Medical Uses:
ADD/ADHD, Anorexia, Anxiety, Cachexia, Cancer, Crohn's Disease, Depression, HIV/AIDS, Insomnia, Lack Of Appetite, Muscle Spasms, Pain, PMS, PTSD, Stress
Terpenes
Caryophyllene, Humulene, Limonene, Linalool, Pinene
Click Here for More
Super Lemon Haze (Mostly Sativa)

Super Lemon Haze is a Green House Seeds Creation. A sativa-dominant hybrid, this strain provides a light and airy mental experience with some gentle body relaxation. THC levels tend to hover between 17% and 22%
Medical consumers use this strain for chronic fatigue, stress and depression. Many also find that it increases their appetite and provides mild to moderate pain relief. If you suffer from frequent headaches or migraines, Super Lemon Haze may just be your new best friend.
THC 20%
CBD 0.1
Lineage Lemon Skunk Super Silver Haze
Effects:
Arousing, Creativity, Energetic, Euphoria, Happiness, Uplifting
Medical Uses:
ADD/ADHD, Depression, Fatigue, Headaches, Lack Of Appetite, Migraines, Pain ,Stress
Terpenes:
Caryophyllene
Limonene
Myrcene
Click Here for More
CBD Critical Mass (High CBD)

CBD Critical Mass Feminised Seeds by the cannabis seeds breeder CBD Crew, is a Photoperiod Feminised marijuana strain. This Mostly Indica strain produces a Medium, High Indoor: 500 g/m2 yield. These seeds are ready to harvest in 8 Weeks in September/October. This Feminised seed grows well in Greenhouse, Indoors conditions. This strain has Critical Mass x Remedy Genetics. It has a Low (5-10%) THC Content. The CBD content of the strain is High (5% +).
Click here for More
A number of studies have shown Cannabis to be effective in treating various symptoms of MS such as muscle stiffness and spasms, pain, gastrointestinal issues, insomnia, depression and poor vision. A study conducted at the University of Plymouth found that patients who took an oral Cannabis extract for 12 weeks experienced twice the rate of relief from muscle stiffness and spasms as patients who took a placebo. The study also showed significant improvements in sleep quality and body pain among the CE group (Zajicek, Hobart, Slade, Barnes, & Mattison, 2012).
Cannabis's sleep-inducing properties have been known for centuries, with modern studies backing up that reputation. A 2008 study sponsored by pharmaceutical company GW Pharma showed that insomnia (an almost universal symptom of MS) patients experienced longer and higher quality sleep when treated with certain Cannabis extracts (Russo, 2008).
The anti-inflammatory properties of the plant is a key factor in slowing the progression of MS, with neural inflammation widely believed to be responsible for nerve damage that causes MS. According to a 2013 study conducted at Tel Aviv University, THC (Delta9-Tetrahydrocannabinol) and CBD (Cannabidiol)-two of the most important active compounds in marijuana- prevent immune response inflammation of nerve cells (Kozela et al., 2013). This action is also behind Cannabis's ability to improve digestion and other gastrointestinal functions.
By affecting the optical nerve, inflammation is once again the major culprit in blurring of vision associated with MS. Additionally; Cannabis has been shown to help in rejuvenation of neurons in adults, which suggests that it could reverse MS (Butterfield, 2016).
There is little scientific evidence on which strains work better than others. However, a Cannabis-based pharmaceutical drug developed in the UK known as Sativex and which is highly successful in treating MS-related symptoms uses a 1:1 CBD to THC ratio.
Butterfield, D. (2016). Multiple Sclerosis: Here's Why Cannabis Is So Effective Against MS. HERB. Retrieved 10 February 2017, from http://herb.co/2016/07/28/marijuana-and-ms/
Kozela, E., Juknat, A., Kaushansky, N., Rimmerman, N., Ben-Nun, A., & Vogel, Z. (2013). Cannabinoids Decrease the Th17 Inflammatory Autoimmune Phenotype. Journal Of Neuroimmune Pharmacology, 8(5), 1265-1276. http://dx.doi.org/10.1007/s11481-013-9493-1
Russo, E. (2008). Cannabinoids in the management of difficult to treat pain. Therapeutics and Clinical Risk Management, Volume 4, 245-259. http://dx.doi.org/10.2147/tcrm.s1928
Zajicek, J., Hobart, J., Slade, A., Barnes, D., & Mattison, P. (2012). MUltiple Sclerosis and Extract of Cannabis: results of the MUSEC trial. Journal Of Neurology, Neurosurgery & Psychiatry, 83(11), 1125-1132. http://dx.doi.org/10.1136/jnnp-2012-302468
The Secret to Natural Pain Relief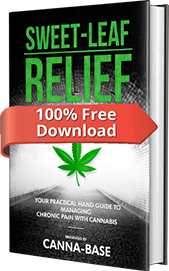 Introduction & comprehensive FREE guide to growing, processing and using cannabis products for help managing chronic pain conditions. Even if you have no garden and zero growing skills or experience.
Always consult your physician when considering a change to your current treatment.