The use of Cannabis as a relief from the discomfort of degenerative bone or disc disease has grown in recent years as the plant's medicinal properties have become more widely accepted. Scientific evidence on the efficacy of Cannabis in managing skeletal disorders is abundant and much of this is pegged on its ability to relieve pain however studies specifically targeting a preventative connection between Cannabis and degenerative bone disease are relatively scarce.
Read More Below…
Recommended Cannabis Strains for the Treatment of Pain Associated with Degenerative Bone or Disc Disease
Pure Kush (Indica)

Clear your schedule because Pure Kush is one potent indica. A longtime favorite of pain sufferers, this strain will leave you feeling heavily sedated. Pure Kush's strength begins with its signature "kush" aroma that is extremely pungent and skunky. Upon first taste, it may have slightly sativa-like effects and create a pleasant pressure in the head and face. These head-heavy sensations are complemented by a relaxing body feeling that gives Pure Kush its reputation of one of the most powerful medical strains.
THC 15-20%
CBD 0-1%
Effects:
Relaxed, Sleepy, Euphoric, Happy, uplifted
Medical Use:
Pain, Stress, Insomnia, Cramps, Nausea
Click here for More
Sour Diesel (Mostly Sativa)

Sour Diesel is famous for its distinct, citrus and diesel fuel aroma. While it may not sound pleasant, both the acidic aroma and energizing effects of this strain are reminiscent of a strong cup of coffee.
Though this strain has a stinky, diesel fuel-like aroma, its one of the most popular sativas around. An excellent daytime strain, Sour Diesel (Sour D) provides a smooth and powerful uplift. This strain is as energizing as a cup of coffee. You'll likely feel Sour D's effects mostly in your head. In fact, most people find that this strain renders a purely cerebral experience.
Effects:
Creativity, Drowsiness, Euphoria, Happiness, Relaxation, Uplifting
Medical Uses:
ADD/ADHD, Anxiety, Depression, Headaches, Inflammation, Migraines, Muscle
spasms, Nausea, Pain, Stress
Terpenes:
Caryophyllene, Humulene, Myrcene, Pinene
Click Here for More
Headband AKA Sour Kush (Mostly Indica)

Headband is a famous hybrid that provides a one-of-a-kind experience. Great for headache relief, Headband creates an odd yet pleasant pressure around the cranium. And yes, it actually feels like you're wearing a headband. It tends to be a little more sedative than you'd like for a daytime hybrid, but this strain is the perfect choice for a lazy day. Patients tend to like this strain for ADD/ADHD, chronic stress, mild aches and pains and headaches.
THC 20%
CBD 0.1
Lineage OG Kush
Effects:
Creativity, Drowsiness, Euphoria, Happiness, Relaxation, Uplifting
Medical Uses:
ADD/ADHD, Anxiety, Depression, Headaches, Inflammation, Migraines, Muscle Spasms, Nausea, Pain, Stress
Terpenes:
Caryophyllene , Humulene , Myrcene , Pinene
Click Here for More
OG Kush (Hybrid)

OG Kush is one of the most popular cannabis strains around. This 1990s sensation is also the base
of many modern day hybrids. With THC Content soaring up to 24%, it's no wonder this strain has become so famous.
OG Kush is a popular medical strain. Those with pain conditions, nausea, migraines as well as ADD/ADHD all tend to like this strain. Some even suggest that this strain can be helpful in Alzheimer's disease.
THC 20%
CBD 0.2
Lineage Chemdawg Hindu Kush
Effects:
Euphoria, Focus, Happiness, Hunger, Pain relief, Relaxation, Uplifting
Medicinal Uses:
ADD/ADHD, Alzheimer's, Anxiety, Bipolar Disorder, Depression, Gastrointestinal Disorder, Headaches, Insomnia, Lack of Appetite, Migraines, Nausea, Pain, PTSD, Stress
Terpenes:
Caryophyllene, Limonene, Linalool, Myrcene, Pinene
Click Here for More
Bubba Kush (Mostly Indica)

Bubba Kush entered the scene prior to 1998, and it's dominated the cannabis world since.
This strain is a powerful indica that will ease your mind and body with a wave of euphoric bliss.
Strong indica effects make Bubba Kush a great choice for cancer and HIV/AIDS patients.
High THC levels stimulate appetite and provide ample pain relief. Potent sedative effects also make Bubba the perfect cure for insomnia. You'll want to stick to night time use with this strain,
Bubba Kush can leave you stuck on the couch and craving favorite snacks.
THC 18%
CBD 0.2
Lineage OG Kush
Effects:
Drowsiness, Euphoria, Giggly, Hunger, Pain Relief, Relaxation
Medicinal Uses:
ADD/ADHD, Anorexia, Anxiety, Arthritis, Cachexia, Cancer, Cramps, Crohn's Disease, Pain
Terpenes:
Caryophyllene, Humulene, Linalool
Click Here for More
Pakistan Chitral Kush (Landrace Indica)

Chitral is a town in Pakistan known for making some of the best hash in the region. Pakistani Chitral Kush, also known as PCK, is a pure indica that is considered a selected landrace, meaning it is an indigenous strain that has been selectively inbred to enhance its characteristics. PCK produces a very colorful phenotype, often earning nicknames like Purple Pakistani or Purple Chitral. This strain is appreciated for its advanced resin production that enables this strain to produce the top-quality concentrates. PCK emits a diverse bouquet of aromas ranging from earthy caramel to sweet notes of fruits and berries. The influence of pure indica genetics creates powerfully relaxing body effects that helps to avoid anxieties and pain, as well as inducing sleep when needed.
THC Unknown
CBD Unknown
Effects:
Relaxed, Happy, Sleepy, Hungry, Tingly
Medical Use:
Stress, Insomnia, Pain, Muscle Spasms, Lack of Appetite
Click Here for More
One of the most important of these studies was published in 2014. The study, which was conducted on 19 mice proved the protective properties of cannabidiol, one of the most important chemical components of Cannabis sativa, against the degeneration of discs in the spine. The researchers induced injury to the mice's spinal discs by puncturing them with a 21-gauge needle. They then divided the subjects into three different groups, which were then injected with 30, 60 or 120 nmol of a cannabidiol extract.
The injuries were observed using MRI and under a microscope over the next 15 days of treatment. The study showed that the mice treated with 30 and 60 nmol of CBD did not experience any improvement in their injuries while the injuries of the group treated with 120 reduced significantly (Silveira et al., 2014). The mechanism behind this effect is not clearly understood.
Aside from the preventative properties of Cannabis, the herb's pain-relieving and anti-inflammatory properties are also useful in managing the symptoms of this condition. Many patients of degenerative disc disease suffer from debilitating pain, which affects their daily activities. By taking Cannabis, many patients are able to dull or eliminate the pain and go about their days normally. A study conducted at McGill University in Montreal provided scientific proof of Cannabis's efficacy in treating chronic pain. The study showed that patients who smoked one puff of 9.4% THC cannabis experienced an improvement of one point on a ten-point pain scale, while the reduction among patients on a placebo was negligible (Doheny, 2010).
Doheny, K. (2017). Marijuana Relieves Chronic Pain, Research Shows. WebMD. Retrieved 11 February 2017, from http://www.webmd.com/pain-management/news/20100830/marijuana-relieves-chronic-pain-research-show#1
Silveira, J., Issy, A., Castania, V., Salmon, C., Nogueira-Barbosa, M., & Guimarães, F. et al. (2014). Protective Effects of Cannabidiol on Lesion-Induced Intervertebral Disc Degeneration. Plos ONE, 9(12), e113161. http://dx.doi.org/10.1371/journal.pone.0113161
The Secret to Natural Pain Relief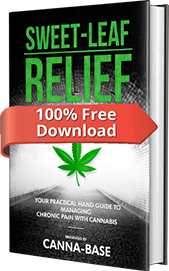 Introduction & comprehensive FREE guide to growing, processing and using cannabis products for help managing chronic pain conditions. Even if you have no garden and zero growing skills or experience.
Always consult your physician when considering a change to your current treatment.