We're here if you have any questions about issues raised on this website,
use the form below to send us your enquiries, we'll get back to you within 24 hours.
Contact Us Here
Join Us on Social Media
We share resources, information & lots of useful links on
our Facebook page and Twitter, join us there.
The Secret to Natural Pain Relief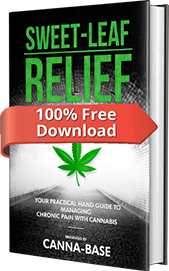 Introduction & comprehensive FREE guide to growing, processing and using cannabis products for help managing chronic pain conditions. Even if you have no garden and zero growing skills or experience.
Always consult your physician when considering a change to your current treatment.
FOOD AND DRUG ADMINISTRATION (FDA) DISCLAIMER
This information is provided without guarantee & has not been evaluated by the
Food & Drug Administration (FDA) or other medical body for use as treatments.
These products are not intended to diagnose, treat, cure, or prevent any disease.