According to research published in the Journal of Bone and Mineral Research, scientists at Tel Aviv University and Hebrew University found that the cannabinoid, Cannabidiol (CBD) helps heal fractures faster and can make bones stronger than before the injury.
Dr. Yankel Gabet of the Bone Research Laboratory at the Department of Anatomy and Anthropology at TAU stated "We found that CBD alone makes bones stronger during healing, enhancing the maturation of the collagenous matrix, which provides the basis for new mineralization of bone tissue," he further stated, that "After being treated with CBD, the healed bone will be harder to break in the future."
According to the study, the administration of the non-psychotropic component cannabinoid Cannabidiol (CBD) significantly helped heal bone fractures.
Research was conducted on rats who were given a mid-femoral fracture and then treated with CBD, which is processed from the Cannabis plant and contains no psychotropic effects. It was found that CBD considerably sped up the process of healing the rats' broken femurs within 8 weeks. The benefits were present without any THC which is the psychoactive component of cannabis.
However in an interview with VICE News/Med Dr Gabet said he wasn't clear how CBD heals bones in rats stating "The main limitation is that this is the very first study on the matter and results have been obtained in animals only". Other specialists in the field have also urged caution with Jeffrey Nyman, PhD, of the Vanderbilt Center for Bone Biology stating "the numbers are, I would say, on the low side,"
So whilst the first study is small and whether the results translate to human subjects may not be known for several years yet but that research is being done into the medical efficacy of this plant, extracts and other products arsing from cannabis has to be a good thing as "main stream" science wakes up to the idea that Cannabis has therapeutic properties worth exploring.
If you would like more information about using Cannabis for it's healing and pain reduction properties then sign up below and receive a copy of our guide to natural pain relief using Cannabis.
The Secret to Natural Pain Relief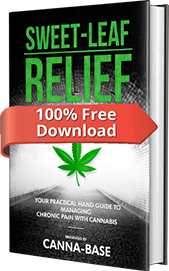 Introduction & comprehensive FREE guide to growing, processing and using cannabis products for help managing chronic pain conditions. Even if you have no garden and zero growing skills or experience.
Always consult your physician when considering a change to your current treatment.