Blueberry is a 1970s strain that's still going strong. This lovely indica produces calm, relaxing, and euphoric effects. It's an award winning strain first bred by the legendary DJ Short.
Expect to feel nice and relaxed as you soak this one in, with a lasting sense of peace and euphoria. Patients with anxiety will appreciate the slight CBD content in this strain, along with the classic indica sedation. The strong bodily-relaxation effects may also provide relief for muscle spasms, rigidity, and pain.
The Secret to Natural Pain Relief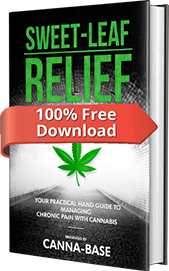 Introduction & comprehensive FREE guide to growing, processing and using cannabis products for help managing chronic pain conditions. Even if you have no garden and zero growing skills or experience.
Always consult your physician when considering a change to your current treatment.