In this recipe we will be using coconut oil as our Cannabis carrier oil. Coconut oil is perfect for cannabis infusions because it contains plenty of essential fatty acids, beneficial saturated fats, and a high amount of lauric acid.
These help to increase the bio-availability of the Cannabinoids.
To further increase the bio-availability as well as adding to the overall nutritional profile, we are also going to add some sunflower lecithin.  Soy lecithin can also be used but soy is often a GMO product and excessive amounts can lead to interference with estrogen levels.
Studies have shown that Lecithin not only improves absorption but it also has health benefits of its own. It aides memory, lowers levels of bad cholesterol, repairs the liver and more.
So not only are we benefiting from the health benefits of Cannabis but coconut oil and lecithin too.
How to Make Cannabis Coconut Capsules
Here is a list of supplies that you will need:
Instructions
The process of making our cannabis oil caps consists of three steps: decarboxylation, oil infusion and filling the capsules.
Decarboxylation
If you need a recap on why decarboxylation is important click here.
Preheat your oven to 220-235 degrees F .Use a coffee or bud grinder and grind your material up finely. Spread the grounds evenly across a sheet of baking paper that is sitting on the baking tray.
Bake the material for about 30-60 minutes. This will be sufficient for proper decarboxylation. Afterwards, pull the tray from the oven. We are ready to infuse the coconut oil.
Remember there will be a strong smell from decarboxylating your Cannabis in the oven.
Infusing the Oil
Turn your slow cooker to a low setting and add the decarboxylated ground bud, the coconut oil, and the sunflower lecithin.
For proper infusion, you should allow the material to cook for at least 2-3 hours. Use the low setting on the slow cooker. Make sure that you stir the mix several times during the process and only use a wooden or metal spoon, not plastic.
Filling The Gelatin Capsules
Size 00 empty gelatin capsules are best for this purpose. You can make yourself familiar with how to use the capsule machine while your oil is infusing in the slow cooker.
You don't need to use a capsule filling machine but it is a lot easier, faster and less messy than doing it by hand. They are relatively cheap and it will shave a lot of time off preparing your capsules.
Take the cheesecloth and a rubber band and secure the cloth over the rim of a small bowl.
Strain the finished oil through the cheesecloth and into the small bowl. This will remove the plant matter, leaving you with your cannabis-infused oil.
Make sure you squeeze the rest of the remaining oil out of the cheesecloth. Best to let it cool down before you do this so you don't burn yourself and use rubber or surgical gloves.
Make sure you allow the oil to cool down to about 95 degrees F before you proceed with filling your syringe. The reason for this is that gelatine capsules can melt if the oil is too hot. Likewise, do not allow the oil to cool down too much since it would solidify. Coconut oil will be in a liquid state anywhere above 76 degrees F.
With the cannabis oil just at the right, warm temperature, fill your syringe. Fill the gelatine capsules one-at-a-time and repeat this process. If you use an oral irrigator with a tapered deep reach tip, filling the capsules will be even easier.
Once you are finished with filling all capsules, close the capsules according to the instructions for the capsule machine.
If you want to test the strength of the Cannabis infused coconut oil before loading them all into capsules you can use a syringe to fill some capsules beforehand while the mixture is still in the slow cooker. Just make sure it's not still too warm or the gelatin capsule will disintegrate. If it is too strong simply add some more coconut oil and let it infuse on the warm setting for another 2 hours.
The Secret to Natural Pain Relief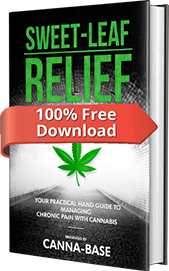 Introduction & comprehensive FREE guide to growing, processing and using cannabis products for help managing chronic pain conditions. Even if you have no garden and zero growing skills or experience.
Always consult your physician when considering a change to your current treatment.