Herniation of the spinal discs, which give the spine its flexibility, puts pressure on the nerves causing pain. This is one of the most common ways in which back pain develops. Disc herniation is particularly a problem among the elderly because discs lose lubrication with age and become susceptible to wear and tear.
Read More Below…
Recommended Cannabis Strains for the Treatment of Pain Associated with Herniated Discs
Afghan Skunk (Mostly Indica)

This popular classic strain was originally developed in the United States to cross the pure indica genetics of an Afghani strain with the durable genes of Skunk plants. Afghan Skunk quickly spread to Amsterdam and beyond and is now considered one of the "classics." Its resilient Skunk genes make this plant a popular recommendation for new growers, and its legendary high yields make it a favorite all around. Flowering happens around 8 weeks and the buds will have a menthol smell combined with the "sweet stink" skunks are known for. Tests have shown THC levels of about 17%, so the stink isn't the only thing that's potent about Afghan Skunk.
THC 15-20%
CBD Unknown
Lineage Afghan Skunk
Effects:
Relaxed, Happy, Sleepy, Hungry, Uplifted
Medical Uses:
Pain, Stress, Insomnia, Depression, Nausea
Click Here for More
Pure Kush (Indica)

Clear your schedule because Pure Kush is one potent indica. A longtime favorite of pain sufferers, this strain will leave you feeling heavily sedated. Pure Kush's strength begins with its signature "kush" aroma that is extremely pungent and skunky. Upon first taste, it may have slightly sativa-like effects and create a pleasant pressure in the head and face. These head-heavy sensations are complemented by a relaxing body feeling that gives Pure Kush its reputation of one of the most powerful medical strains.
THC 15-20%
CBD 0-1%
Effects:
Relaxed, Sleepy, Euphoric, Happy, uplifted
Medical Use:
Pain, Stress, Insomnia, Cramps, Nausea
Click here for More
Cataract Kush (Mostly Indica)

This is the combination of LA Confidential and OG Kush. This strain was created by DNA Genetics and it has blankets of crystals and looks al-most grayish-black.The effect is good for pain, eating and sleep disor-ders. Most describe Cataract as a "creeper" high that keeps on building long after you stop smoking! This strain has been years in the making and is NOT recommended for the light-weight smoker. After you experi-ence the Cataract Kush you'll think you have cataracts!
THC Unknown
CBD Unknown
Effects:
Relaxed, Uplifted, Happy, Euphoric
Medical Uses:
Pain, Stress, Inflammation, Insomnia, Depression
Click Here for More
CBD Skunk Haze (High CBD Hybrid)

CBD Skunk Haze Feminised by the cannabis seeds breeder CBD Crew, is a Photoperiod Feminised marijuana strain. This Indica / Sativa strain produces a Medium, High Indoor: 450 g/m2 yield. These seeds are ready to harvest in 10 Weeks in November. This Feminised seed grows well in Greenhouse, Indoors conditions. This strain has Skunk Haze Genetics. It has a Low (5-10%) THC Content. The CBD content of the strain is High (5% +).
Click Here for More
Mazari I Sharif (Mostly Indica)

Mazari Feminised Seeds by the cannabis seeds breeder Seedsman, is a Photoperiod Feminised marijuana strain. These seeds are ready to harvest in 8-9 Weeks in Beginning of November. This Feminised seed grows well in Greenhouse, Indoors, Outdoors conditions. This strain has Mazari Sharif x Skunk #1 Genetics. It has a Unknown THC Content. The CBD content of the strain is Unknown.
Click Here for More
CBD Critical Cure (Indica)

CBD Critical Cure is an indica you can consume during the day. A high-CBD/Low-THC strain,
this flower has little psycho-activity. Rather it knocks out pain and fights stress without impacting cognition. Medical cannabis patients often pick up CBD Critical Cure for mental health ailments like depression, anxiety, PTSD, This strain is also for those who suffer with inflammatory arthritis and gastrointestinal distress. CBD Critical is a popular pain-fighting strain.
THC 5%
CBD 10%
Lineage Critical Kush Ruderalis
Effects:
Creativity, Drowsiness, Focus, Giggly, Happiness, Pain Relief, Relaxation, Sociable, Uplifting
Medical Uses:
Anxiety, Arthritis, Bipolar Disorder, Depression, Gastrointestinal Disorder, Inflammation, Insomnia, Nausea, Pain, PTSD, Stress
Terpenes:
Caryophyllene, Humulene, Linalool, Myrcene, Pinene
Click Here for More
Chocolate Kush (Mostly Indica)

Chocolate Kush, bred by 00 Seeds, is a powerful indica strain that captures the best of its two parent strains. Mazar, with its resin-oozing buds, lends its potent full-body euphoria while its other pure indica parent passes on a pungent aroma of hashy incense and chocolate. This strain grows into medium-sized plants with a Christmas tree structure and flowers in 56 to 60 days. The sativa-dominant Chocolope Kush sometimes goes by the name Chocolate Kush, so be sure to confirm this strain's genetics with your budtender if you're looking for the heavy-handed indica.
THC 20% +
CBD Unknown
Effects:
Relaxed, Euphoric, Creative, Focused, Uplifted
Medical Uses:
Stress, Pain, Insomnia, Headaches, Lack of Apetite
Click Here for More
CBD OG Kush (Mostly Indica)

CBD OG Kush Feminised Seeds-5 by the cannabis seeds breeder CBD Crew, is a Photoperiod Feminised marijuana strain. This Mostly Indica strain produces a Medium 350 - 450 gr/m2/600W yield. This Feminised seed grows well in Indoors conditions. This strain has OG Kush Genetics. It has a Low (5-10%) THC Content. The CBD content of the strain is High (5% +). This strain can be used to treat a variety of medical conditions including, Arthritis, Epilepsy, Inflammation, Muscle Spasm, Pain, PTSD.
Click Here for More
Herniated disc pain is treated through a combination of physical, surgical and pharmaceutical therapies but these tend to be ineffective or cause unwanted side effects. Like a vast array of pain conditions, herniated disc pain can be treated using Cannabis and many patients are turning to the plant rather than toxic pain killers or invasive surgeries. Although there is a scarcity of studies specifically targeting herniated disc pain, related back pain problems like degenerative disc disease have been shown to respond significantly to Cannabis.
A study of 184 patients conducted at the University of Colorado Spine Center yielded results that back up the efficacy of Cannabis in treating back pain. Most of the patients in the group had degenerative disc problems and 19% of them used Cannabis as part of their treatment regimen. Each patient used Cannabis one or two times daily and 83% also used other medications.
When asked about their experience with Cannabis, 89% of the participants reported that it greatly or moderately relieved their pain, and 81% found it to work better than narcotic painkillers (Fauber, 2013). Another related study found that an injection of cannabinoids in the spine helped to induce healing in damaged discs in mice. Very few incidences of negative side effects were reported (Silveira et al., 2014).
The curative properties of Cannabis are attributed to the actions of cannabinoids, with THC and CBD being the most abundant of these compounds. The two compounds have analgesic and anti-inflammatory properties, which are manifested by targeting the pain receptors and autoimmune receptors. CBD is of particular interest to physicians because it does not have the psychoactive properties of THC.
Because herniated disc pain patients can benefit from the tissue damage-repair properties of Cannabidiol, it is advisable for patients to try CBD-high strains, which may have more efficacy in this regard. It may also be advisable to supplement any Cannabis use with high quality CBD oil if high THC (low CBD) strains work better for the everyday pain and can improve overall functionality. Not only will the CBD oil tone down any high from any THC but it also has a synergistic effect with THC meaning that there is more medicinal effect from taking both than taking either one in isolation.. Vaping or smoking is often the preferred method of ingesting Cannabis as the relief is fast but tinctures and Cannabis infused coconut oil capsules may provide longer lasting and more balanced relief from the pain.
Doheny, K. (2010). Marijuana Relieves Chronic Pain, Research Shows. WebMD. Retrieved 18 February 2017, from http://www.webmd.com/pain-management/news/20100830/marijuana-relieves-chronic-pain-research-show#1
Silveira, J., Issy, A., Castania, V., Salmon, C., Nogueira-Barbosa, M., & Guimarães, F. et al. (2014). Protective Effects of Cannabidiol on Lesion-Induced Intervertebral Disc Degeneration. Plos ONE, 9(12), e113161. http://dx.doi.org/10.1371/journal.pone.0113161
The Secret to Natural Pain Relief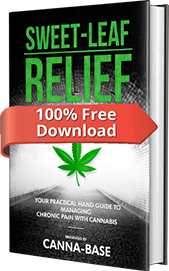 Introduction & comprehensive FREE guide to growing, processing and using cannabis products for help managing chronic pain conditions. Even if you have no garden and zero growing skills or experience.
Always consult your physician when considering a change to your current treatment.